Untuk Entry Kali nie...Salah satu smartphone idaman Zaman Kini tak lain tak bukan ialah Samsung Galaxy S II. Ramai review cakap SGS II ini ialah the best smartphone ever made. Suatu hari nanti, comfirm akan beli untuk memastikan sendiri ke"best"annya. Untuk hari ini, nak share kekreatifan game di microsite Samsung Galaxy S II.
Lepas korang klik link microsite Samsung Galaxy S II, sila tekan link "Play Now". Nanti screen seperti di bawah akan keluar. Bersiap sedia untuk merasakan keterujaan yang amat hebat.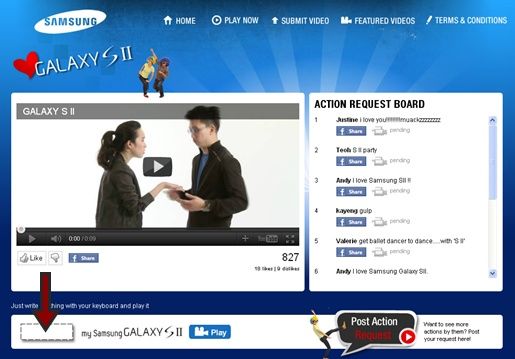 Nampak tak arrow warna merah tue ? Kat situ anda boleh isi apa-apa action yang anda mahukan berlaku di dalam video di atas. Contohnya marilah kita meletakkan "bite" sebagai action yang dimahukan.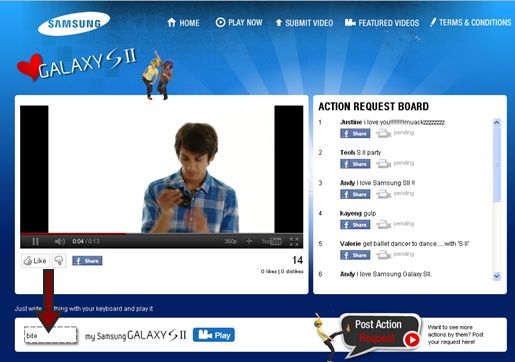 Dan nanti video seorang lelaki kacak menggigit Samsung Galaxy S II akan keluar. So korang kena jadi kreatif untuk melihat action-action yang comel. Cuba korang letak "scratch", "sex", "love", "cry" atau apa-apa sahaja yang terfikir di otak korang. Confirm anda akan teruja dengan video yang bakal keluar.
So tunggu apa lagi? Lawat microsite Samsung Galaxy S II sekarang jugak dan try be as creative as you guys can.